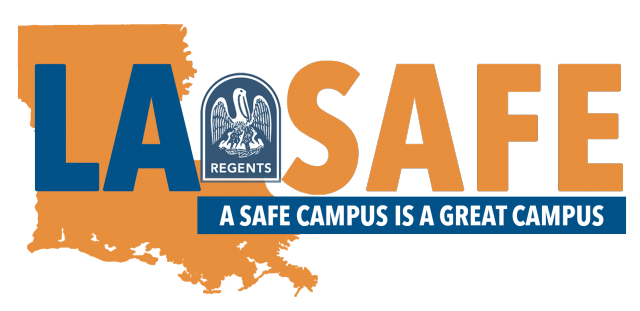 Welcome to the Louisiana Board of Regents Louisiana Sexual Assault Free Environment webpage!  In accordance with Act 172 of the 2015 Regular Session, this page was created as an information resource for all matters relative to sexual assault.  Lousiana public postsecondary institutions have a zero tolerance policy for any incidences of sexual misconduct.  Our campuses are committed to providing a learning, working, and living environment that promotes integrity, civility, and mutual respect in an environment free from sexual misconduct as provided in Title IX and other applicable laws.
All Louisiana public postsecondary institutions have implemented policies and procedures to prevent and address acts of sexual misconduct in compliance with federal laws, state law, and the Board of Regents Policy. Louisiana public postsecondary institutions are equipped to provide support and assistance to complainants of sexual misconduct and will report instances of sexual misconduct in accordance with state and federal laws.
LaSAFE LINKS
CONFIDENTIAL ADVISORS TRAINING MODULES
SYSTEM / CAMPUS WEBSITES
The Louisiana Board of Regents and all of its member institutions are committed to providing all students, faculty, and staff with a safe environment that is free from sexual assault.  Please visit the web pages below for campus-specific resources which include (R.S. 17:3399.11 through 3399.15) contact information for confidential advisor(s), reporting options and accommodations for complainants, the process of investigation and disciplinary proceedings, information on medical facilities, and contact information for local, state, and/or national resources.