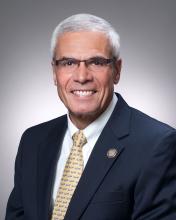 On January 2 2015, Dr. Joseph C. Rallo officially became the 8th Commissioner of Higher Education in Louisiana.
Dr. Rallo served as the Vice Chancellor for Academic Affairs for the Texas Tech University System.
Dr. Rallo is also the Past-President of Angelo State University. Prior to that appointment he served as Provost and Academic Vice President at Western Illinois University, and was Dean of the College of Business and Administration and the Graduate School of Business Administration at the University of Colorado-Colorado Springs.
Dr. Rallo served on active duty in the United States Navy and the United States Air Force, with assignments in complex command level organizations. After 27 years of active and reserve service, he retired from the Air Force with the rank of Colonel.
Dr. Rallo received the B.A. in Russian History from Lafayette College, the J.D. from Western New England University, as well as the M.A. and Ph.D. in International Relations from the Maxwell School of Citizenship and Public Affairs at Syracuse University.