December 11, 2015
December Regents Recap

December 28, 2015 Volume 3 Issue 10 www.regents.la.gov
Regents Nominates 2016 Officers
Regents
Members

Roy O. Martin III
Chair

Richard Lipsey
Vice Chair

Joseph Farr
Secretary

Mark T. Abraham

Claudia Adley

Raymond J. Brandt

Marty J. Chabert

Joel E. Dupré

William Fenstermaker

Chris D. Gorman

Robert W. Levy

Edward D. Markle

Gray Stream

Collis Temple III

Joseph C. Wiley

Patrick Harrington
Student

Joseph C. Rallo
Commissioner of Higher Education
The following members were nominated to serve in leadership capacities for the Board of Regents in 2016. The board will formally install its officers at a special meeting in January.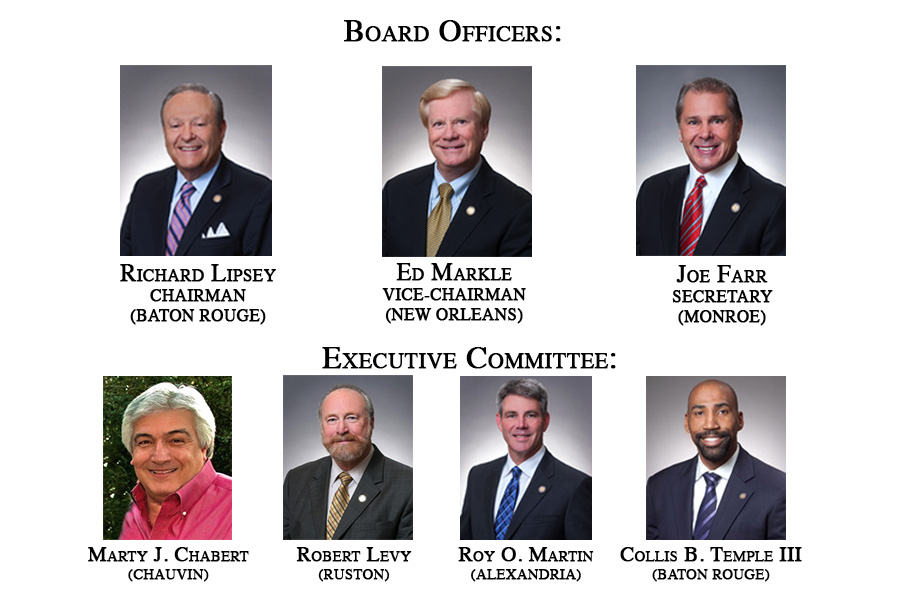 2016 LOSFA Commission:
Dr. Larry Tremblay and Regent Collis B. Temple
---
Regents Makes Recommendations of the GRAD Act Review Panel
---
Today, the Board of Regents approved the recommendations from the GRAD Act Review Panel relative to the renewal of the six-year agreements and in the reward areas of tuition authority, operational autonomies and performance funding relative to the future of GRAD Act.
In 2010, the Louisiana Legislature enacted Act 741, the Louisiana Granting Resources and Autonomy for Resources for Diplomas Act (GRAD Act). The GRAD Act provides for six-year performance agreements between the Louisiana Board of Regents (BoR) and Louisiana public postsecondary education systems and institutions. With the overall goal of rewarding performance for increasing accountability and efficiency among participating institutions, the Act grants colleges and universities increased autonomy and flexibility in exchange for a commitment to meet defined performance objectives.
The GRAD Act requires the BoR to annually monitor and report to the Legislature and the Governor each institution's progress toward meeting benchmarks and targets associated with the performance objectives. Additionally, the Act calls for the BoR to review GRAD Act during the end of each six-year agreement period, and, based in part on considerations of a review panel, recommend to the Joint Legislative Committee on the Budget whether the six-year performance agreements should be renewed.
In accordance with Act 741, the BoR sought appointments to the GRAD Act Review Panel. The twelve appointed members include one representative from each postsecondary education system, a representative appointed by the Board of Regents' Chair, a representative appointed by the Commissioner of Higher Education, two representatives selected by the Speaker of the House of Representatives, two selected by the President of the Senate and two representatives appointed by the Governor's office .
In October 2015, following receipt of panel appointments, the BoR held an initial meeting of the Review Panel. A subsequent meeting was held on November 9th. The final report of the GRAD Act Review Panel was submitted thereafter to the Board of Regents for its consideration.
Specific recommendations are outlined below:
1. The six-year agreements not be renewed;
2. That postsecondary education be funded through a methodology that more appropriately considers both cost and performance;
3. The GRAD Act performance and accountability metrics (retention, progression, transfer, completion, time-to-degree, etc.) be incorporated in the implementation of a new outcomes-based funding formula;
4. The Board of Regents in consultation with the management boards develop a Tuition Policy for legislative approval to give management boards tuition authority within the parameters of the Regents' Tuition Policy;
5. Eligibility for operational autonomies, as amended by Act 359 of 2015, be reauthorized in a separate statute;
6. The Board of Regents shall annually report to the appropriate Legislative committees on the implementation of the funding methodology and the outcomes based funding formula including performance metrics for each institution, how much funding the formula allocates to each institution and how much each institution actually receives; and
7. The GRAD Act law be repealed.
To access a complete copy of the GRAD Act recommendations visit: http://www.regents.la.gov/assets/docs/Board/PRP-Agenda-2015-1210-Rev.pdf
---
Regents unveils new tagline to communicate strategic goals
---
Today, the Board of Regents unveiled its new tagline for higher education in Louisiana entitled Elevate Louisiana! Education & Innovate. This new tagline is a part of an overarching objective to redefine the overall goals of higher education in Louisiana, along with selecting performance metrics which will track progress.
"As we work towards the revision of the Master Plan which guides higher education we knew that we needed to develop a consistent message to clearly articulate our vision and aspirational goals," said Commissioner Joseph C. Rallo. "Our board, the system presidents, members of the management boards, staff, faculty, students and other stakeholders came together to develop this single, unified message which communicates the direction for higher education. It's wonderful to see what can be achieved when we work together."
Elevate Louisiana! Education & Innovate is supported by specific goals which include educational access and achievement, workforce training, and research and innovation. "Moving forward, alignment of the workforce, education and innovation continuum will be key. We will educate through higher education to create a strong workforce and improve lives, and we will innovate to build tomorrow's economy," said Dr. Lisa Vosper, Associate Commissioner for Workforce Education and Training. These targeted areas will help guide the development of performance metrics to measure progress towards improving the outcomes of higher education in Louisiana.
In conjunction with the new tagline, Regents introduced a student targeted campaign called Choose Louisiana, which will engage students across the state who will convey why they chose to matriculate at a post-secondary institution in Louisiana. "We wanted to make sure that our customers- our students- played an integral role in communicating the value of higher education in this state," said Assistant Commissioner for Public Affairs, Dr. Katara Williams. Through Choose Louisiana, students will serve as ambassadors and recruiters for Louisiana public higher education by way of marketing efforts such as website video vignettes and student profiles to name a few. Students will also be able to upload their stories to share via social media. The Board of Regents also plans to incorporate stakeholders in the near future.
---
Governor-Elect John Bell Edwards visits with Higher Education
and other Statewide Leaders
---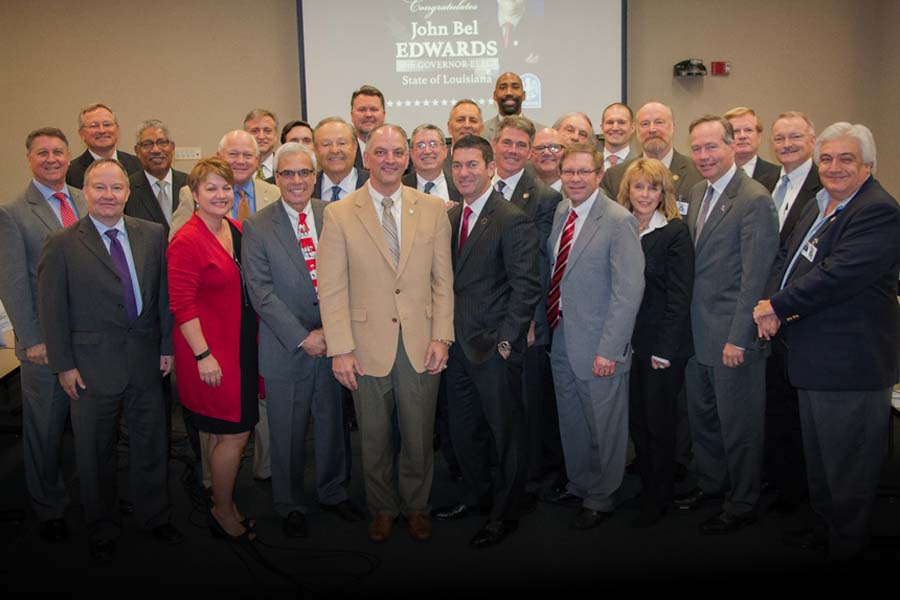 2015 Stakeholder Colabortaive meeting with Governor-Elect John Bel Edwards
---
Board Actions
---
The Board of Regents approved the following Academic Affairs items:
-Letters of Intent
-Academic Program Proposals
AS in Engineering Technology – NSU (conditional)
PBC in Business Analytics - NSU
-Program Reinstatements
MAT in Elementary Education and Special Education Grades 1-5 and MAT in Secondary Education and Special Education Grades 6-12 -- Nicholls (conditional)
-Center of Excellence
Continued designation of SEED Center for Workforce Excellence -- McNeese
-Military & Veteran Friendly Campus – Initial Designation
Grambling State University
Louisiana Tech Unversity
Southern University Baton Rouge
University of Louisiana at Monroe

Consent Agenda

A. Research Centers/Institutes
1. Professional Sales Institute – LSU (Full Approval)
2. LSU Hurricane Center (Reauthorization)
B. Routine Staff Reports
1. Staff Approvals
2. Progress Reports
3. Past Due Reports
4. Letters of Intent/Proposals in the Queue
The Board of Regents approved the following Planning, Research, and Performance items:
Consent Agenda
A. R.S. 17:1808 (Licensure)
1.License Renewals
a. Columbia University Teachers College
b. University of Wisconsin Milwaukee
c. Western Governors University
B. Proprietary Schools Advisory Commission
1. Initial Licenses
a. Accelerated Dental Assisting Academy (Hammond)
b. Assist to Succeed
c. New Orleans Culinary and Hospitality Institute, Inc.
2. AOS Degree Application
a. ITI Technical College

3. License Renewals
a. Academy of Interactive Entertainment (09/22/10)
b. Acadiana Area Career College--A Division of Blue Cliff College (09/28/12)
c. Advantage Dental Academy, LLC (09/25/14)
d. American School of Business (09/24/09)
e. Ayers Career College (10/25/90)
f. Becker Professional Education--New Orleans (10/24/96)
g. The Captain School, LLC (09/22/11)
h. Cardiovascular Technology Training (09/27/07)
Coastal College--Baton Rouge (09/28/00)
j. Coastal Truck Driving School of New Orleans (09/25/14)
k. Compass Career College (09/23/04)
l. Crosby Court Reporting Center (10/28/93)
m. Delta College, Inc. (10/26/95)
n. Delta College, Slidell Branch (09/23/04)
o. Dental Assisting Academy of Louisiana (09/25/14)
p. Diesel Driving Academy--Shreveport (06/21/73)
q. Eastern College of Health Vocations (10/28/99)
r. McCann School of Business and Technology (formerly
Career Technical College) (09/28/06)
s. McCann School of Business and Technology (formerly Career
Technical College of Shreveport (09/28/06)
t. Mia's Medical Academy, LLC (09/25/14)
u. Nursing Assistant Network Association (10/27/94)
v. Pelican Chapter, Associated Builders and Contractors, Inc.,
Training Center—Baton Rouge Campus (09/27/12)
w. Pelican Chapter, Associated Builders and Contractors, Inc.,
Training Center--Southwest Campus (09/27/12)
x. Saint Agatha Career School, LLC (09/22/11)
y. Spartan College of Aeronautics and Technology (09/26/13)
z. Sparx Welding & Technology Institute (08/26/10)
aa. Thomas Training & Development Center, Inc. (10/26/95)
bb. Unitech Training Academy, West Monroe (09/23/04)
cc. The World's Only Tattoo School, LLC (09/27/07)
Board of Regents Received the Report submitted by the GRAD Act Review Panel.

The Board of Regents approved the following Finance item:
Proposed outcomes-based funding formula and to submit the report to the Senate Committee on Education, the Senate Committee on Finance, the House Committee on Education, and the House Committee on Appropriations not later than January 31, 2016.

The Board of Regents received the following Sponsored Programs update:
Revised BoRSF FY 2016-17 Plan and Budget
---
December Meeting Highlights
---
Caption: December Board Meeting